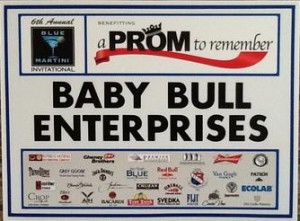 "A PROM TO REMEMBER"
This is an event held at The Ritz-Carlton, Fort Lauderdale for teens who are battling cancer. These courageous children will have an opportunity to trade in their hospital gowns for prom dresses and tuxedos to attend the one-of-a-kind event. With the help of sponsors, all of the festivities from salon services, formalwear, limousine transportation, and red carpet treatment will be provided at no cost to the children and their families.

WOUNDED WARRIOR

Many of our brave men and women have returned home from war with life altering injuries. Whether they are coping with physical injuries, or invisible wounds, such as Traumatic Brain Injury (TBI) or Post-Traumatic Stress Disorder (PTSD), these brave heroes deserve to receive the benefits they have earned serving our country.
BabyBull Enterprises supports these patriots through donations made to Wounded Warrior Project and participates in the annual golf benefit on Veterans Day at Davie Golf & Country Club.